Our Top 10 Fun Facts - Did You Know?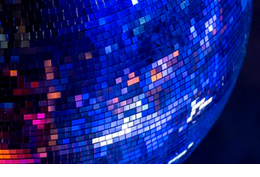 We've compiled a few of our favorite fun facts from the Disco era and artists from the Ultimate Disco Cruise 2021 roster. How well do you remember the era that brought us this new dance and cultural revolution? Join our community and add any of your own fun facts, memories and pictures to our Facebook page. Tag friends, songs and your favorite clubs. We welcome any tidbits, pictures and your favorite memories of the disco seventies.
Did you know that the disco era officially began when a wealthy New Yorker, David Mancuso, opened The Loft nightclub in New York City On Valentine's Day 1970.
Earl Young, the drummer for the Trammps, is credited to have invented the disco beat.
Did you know that the disco ball has been around as early as the Civil War, but it wasn't patented until 1917 by Louis Bernard Woeste, who called it the "Myriad Reflector"?
Did you know that Rick Dees the host of Billboard Top 40 wrote the hit Disco Duck which sold over 6 million copies, and the man who was the voice of the duck was only paid $50.00 for his performance.
Robert Bell had given himself the nickname Kool as a way of adapting to the street gangs where they lived.
The group Rose Royce was originally called Total Concept Unlimited.
The group Exposé was originally called X-posed.
Exposé's first hit, "Point Of No Return", helped introduce a popular genre of music called Freestyle.
Did you know Evelyn "Champagne" King's uncle Avon Long worked with Lena Horn at the Cotton Club?
Evelyn "Champagne" King's mother worked at Philadelphia International Records and Evelyn would clean the office for her mom and sing at the same time, that's where she was discovered by producers.
Trivia is courtesy of Steve Walsh of Hitmaker Trivia.