Gems of the Disco Era Joining Us in 2023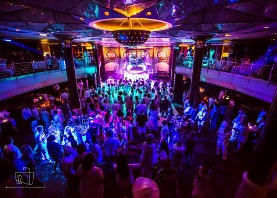 The kings and queens of the disco era have joined the greatest fans to ever hit the dance floor on the Ultimate Disco Cruise since it first sailed in 2019. We can't wait to roll out the red carpet for next year's royal family (not to mention all the "Saturday Night Fever" alumni that will be on board). Here are just a few of the crown jewels joining the cruise and some fun facts about each of them:
Kool & The Gang cemented their place in disco history when "Open Sesame" thumped through the speakers of 2001 Odyssey during the iconic dance contest as Tony Manero watched with intensity from the sidelines. One of the best-selling soundtracks of all time, "Saturday Night Fever" also brought Kool & The Gang their second GRAMMY Award.
Sister Sledge worked with disco alchemist Nile Rodgers, who had a preternatural talent for turning songs into solid gold. Their collaboration delivered "We Are Family," "He's the Greatest Dancer," "Lost in Music" and "Thinking of You."
And while we're on the subject of Nile Rodgers, we're ridiculously excited that his former Chic bandmates Norma Jean Wright and Luci Martin will be bringing the "Good Times" onboard the 2023 Ultimate Disco Cruise. Chic's anthems "Dance, Dance, Dance (Yowsah, Yowsah, Yowsah)," "Everybody Dance," "Le Freak" and "I Want Your Love" defined the disco era like no other band.
Tavares thought they hit it big when "Heaven Must Be Missing An Angel" started climbing the charts. But it wasn't until they landed the opening slot on a tour with the Bee Gees that their career moved into the stratosphere. Barry asked them to record one of his songs and "More Than a Woman" made its way onto the "Saturday Night Fever" soundtrack and into our hearts forever.
Most of us know that Evelyn "Champagne" King was still a teenager when "Shame" rode the disco wave. But did you know that she sang all the backing vocals to the song, too?
While there's no doubt that disco was born in clubs throughout the US, one band actually found their groove across the pond before bringing it back home. Heatwave was performing in London nightclubs when they added disco to their repertoire, giving us "Boogie Nights," "The Groove Line" and more.
Another artist that got her start in the UK was Maxine Nightingale, hitting big with "Right Back Where We Started From" in her homeland before it was released the following year in the US.
Legend has it that "Disco Inferno" was inspired by a scene in classic film, "The Towering Inferno." Already a Number One dance club hit, both The Trammps and the song reached iconic status when a mind-blowing 11- minute version was included on the "Saturday Night Fever" soundtrack.
Just when we thought we knew everything about Al McKay, we found out that he co-wrote "Best Of My Love" for The Emotions. It probably shouldn't have come as a surprise. After all, he co-wrote Earth, Wind & Fire's "September," too.
Just like Evelyn "Champagne" King, France Joli was still a teen when her song took up permanent residence on turntables everywhere. But did you know that Donna Summer inadvertently handed France her big break? When the disco legend unexpectedly bowed out of a concert, promoters invited France Joli to take her place and that moment kicked off the young singer's career.
We can't wait to see all this disco royalty joining us in 2023!