A Letter from the Executive Producer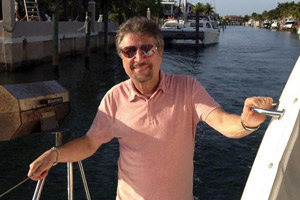 From the very beginning, I was very excited with the concept of bringing the Ultimate Disco Cruise to life. I vividly remember the times in my life from that era, and I wanted to recapture the music, experiences and those feelings. Growing up, my friends and I just couldn't wait until the weekend. It all revolved around finding the best and most happening night club, where we could meet up, let go of the burdens of the week with dancing, catching up and hanging out. There was great music, great artists and just so much fun.
To this day, these were some of my favorite and most unforgettable memories and now we get to relive them for 5 full days and nights on a luxurious ship sailing to Key West and Cozumel. There's a connectedness we share when listening to great music and dancing freely to it. It simply makes us happier. Just like previous sailings, I was overjoyed on this year's Ultimate Disco Cruise when I'd look around Studio 55, in the theaters and even in the hallways when I'd see guests dancing, smiling and just having fun. Thank you to those that joined us and made it another spectacular sailing. To those that couldn't make it in the spring, we hope you'll join us on the dance floor next year!
Alan Rubens
Executive Producer