A Message to Fans from Evelyn "Champagne" King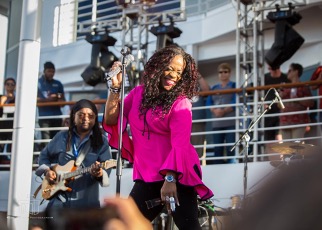 Our very own Disco Cinderella, Evelyn "Champagne" King, was discovered while cleaning bathrooms at Philadelphia International Records when she was a teenager, became a bona fide disco queen by the time she was 17 years old and has refused to leave the dancefloor ever since. Too young to get into the clubs where her anthems "Shame" and "I Don't Know If It's Right" were being spun all night long at the height of the disco era, Evelyn went on to deliver even more hits over the next three decades including "I'm in Love," "Love Come Down," "Your Personal Touch" and "Hold On To What You've Got." She recently told us what it was like to record all those hits, to watch her fans boogie down to them and what she's got in store for Ultimate Disco Cruise guests next year.
It all began with disco. When "Shame" originally appeared on Evelyn's "Smooth Talk" album in 1977, it quickly made its way onto turntables across the country, but it was an epic 6 ½ minute remix by club DJs Al Garrison and David Todd that propelled it into the mirror-ball stratosphere. Within weeks it was one of the most popular songs in discos everywhere and six months later it broke into the pop and R&B Top 10 charts.
"I remember when we recorded it, the producer, the songwriters were all yelling that it was a hit," Evelyn reminisces. "Meanwhile, I was sitting there thinking, 'well…we'll see,' because I was just doing what I love. I mean, I was a little too young to be singing lyrics like that," she continues, laughing, "but I just loved the music and that's all I focused on."
Fans clamored to see the teen disco queen, who started touring as soon as "Shame" took off. "Back then it was a struggle," she admits. "I was a teenager, I wanted to be in school, to be in class with the rest of the kids but I went right on tour and never stopped. But I loved it and went through a lot as a kid that people spend their whole lives dreaming they could do, so I appreciate all of it." "Every day it was something new," she adds. "A different city, state, country. I was all over the world. It blew me away and it didn't stop. And I've really kept touring ever since. I just love it so much and love the fans so much."
Evelyn pauses for a minute, deep in thought. "Some people come to my shows today and tell me how they met me backstage back then or they're holding up albums that I signed back in 1978 or 77. It's so amazing. It's beyond words. It's beautiful. It's a blessing."
Connections like these with her fans, both new and lifelong, are some of the moments she's looking forward to the most on the Ultimate Disco Cruise. "No matter where I am, people come up to me and I will always say hello and I make sure I take a picture with them," she promises. "I know that these moments are memorable for fans, but it's memorable for me, too, knowing that they wanted me to be on their cruise. It means a lot that they're all there."
Before we said goodbye, Evelyn insisted we send out a message from her to all of the cruise guests so they'll be ready for her: "Before they get on the cruise, I have to let everyone know they won't sit down in my show," she cautions. "Are they coming to party or are they coming to sit down and relax? That's right. We are there to have some fun! You know, sometimes I get up there on stage during a show and I'm moving my feet like I never knew I had and then I look out into the audience and see everyone dancing, doing everything from the funky chicken all the way up to the penguin," she laughs. "So don't leave home without your dancing shoes!"