UDC 2023 Bring a Friend Program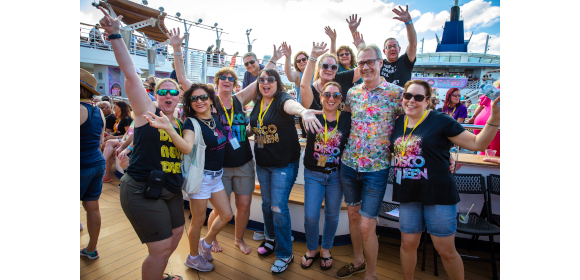 For each friend that you refer who books a cabin, you will receive an onboard credit in the amount of $100. Your friend's cabin will get a $100 onboard credit too! Plus, you become eligible to receive the Group Leader Compensation when you get 3 or more cabins booked under your name.
Just a few things to note:
In order to be part of the referral program, you must already be booked on the Ultimate Disco Cruise 2023.
Your referrals must book by phone and use your full name as the referral at the time of booking.
This special promotion cannot be combined with other promotions except on your own reservation if there is already a promotion applied. Only one referring name can be used per cabin. 
Once you exceed 2 cabins booked under your name, not including your own, then you qualify for the Group Leader Program Compensation rates listed here and must register to qualify for these additional benefits through the Group Leader program. After registering, your friends' cabins will still receive the $100 Refer-A-Friend Bonus and the remaining portion of your earned funds will be distributed in accordance with the Group Leader Program.
The Bring a Friend promotion begins June 13, 2022 and expires November 1, 2022 and is not retroactive.
A Group Leader may not qualify individuals for his/her group if the individual is booking their cruise through a registered travel agent.
A registered Travel Agent cannot be a Group Leader. Click here for Travel Agent compensation.