Disco Lives Through Exposé And Third World!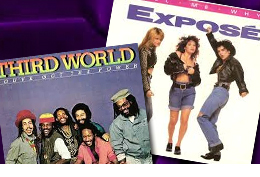 The 2021 Ultimate Disco Cruise lineup has just been announced and we can't stop dancing with excitement as we hit the replay button (over and over again) on "Boogie Shoes" and "Ladies' Night," "Don't Leave Me This Way" and "Rock the Boat." We've even added a few new songs to our playlist, reminding us that disco lives on through so many different eras and genres thanks to groups like Exposé and Third World. If you're not familiar with them yet, here are some interesting highlights!
Exposé's first single, "Point of No Return," hit #1 on Billboard's Hot Dance Club Play chart in 1985. In 1987, it was re-released and this time went all the way to #5 on the pop charts.
The all-female trio racked up 10 Top 40 singles, including "What You Don't Know," "Come Go With Me," "Let Me Be The One" and "Seasons Change."
Their debut album delivered four Top 10 hits, a rare feat, usually accomplished by superstar artists like Beyoncé, Madonna and Justin Timberlake.
In 2017, Billboard magazine picked "Exposed To Love" for their list of 100 greatest girl group songs, ranking it higher than Destiny's Child's "Independent Women (Part 1)" and "Jimmy Mack" by Martha and the Vandellas.
Third World has been mixing disco and reggae together (along with soul and funk, even some doo-wop and jazz) since they first formed back in 1973. This magic formula has brought them nine GRAMMY nominations throughout their career, including one this year!
The band's disco-era hit, "Now That We Found Love," was so good that it dominated the charts twice during the '70s – once for The O'Jays in 1973 and then again when Third World added a touch of reggae to it in 1978. And did you know that our faves, Gamble and Huff, wrote the song?
They've opened for everyone from Bob Marley to The Jackson Five. After Stevie Wonder joined them onstage during a concert in 1981, he was inspired to co-write and produce a new song for them, "Try Jah Love."
In 1986, Third World received the United Nations Peace Medal of the Third World, awarded to those who advocate for justice and peace in third world countries.