Celebrating With "Champagne"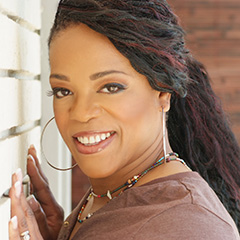 Evelyn "Champagne" King took over the dancefloor in 1977 with her disco anthem, "Shame," and never left. From "I'm In Love" to "Love Come Down," she's hit the Top 10 of the Dance charts in nearly every single decade that has followed "Shame" and has performed around the world and back again. We caught up with Evelyn recently, just before she headed out for a concert alongside fellow Ultimate Disco Cruise-mates Rose Royce, and she told us what it was like to be a teen star, record songs that crossed genres and generations and what she loves most about the Ultimate Disco Cruise.
"I got discovered at 14 and when 'Shame' was recorded. I was 14, going on 15," Evelyn says. You read that right; Evelyn was just a teenager when she belted out her iconic song that went on to become a Top 10 hit. "When I heard myself on the radio for the first time, I actually fainted," she recalls with a laugh. "My parents and everybody had gone out and I was at home by myself and all of a sudden I heard my voice on the radio. I fainted, I got back up, I pulled myself together and I was freaking out."
Fans were freaking out, too, falling head over platform heels for the new star's powerful voice and flocking to her concerts. "I was just in the moment," she continues, "because I didn't know what it was going to entail. It was like an overnight success. Your mindset is, 'wow this is unbelievable.' And then I'm out there on tour with Parliament and George Clinton all these group that I listened to growing up and I'm out there touring with them. I even did two shows with James Brown."
And waiting for her when she got off stage was a pinball machine. "Because I was so young, I wasn't going to go out to the clubs after the show with the others on the tour, so my record company put a pinball machine or Ms. Pac-Man in my room to make sure I stayed young and out of the circle of bad things. I just couldn't do that; it wasn't for me. And it still isn't."
But even with Ms. Pac-Man as a roommate, life on the road still brought unique challenges for someone so young. "I was a little girl out there, a young lady by myself that had my own band and I'm the one paying them. It was a lot of responsibility. I was in the back of my own tour bus once and started crying. I was getting ready to go on tour; I was only 15 years old and knew it was going to be a long road. My mom said, 'if you don't want to do this we can turn back around and go home.' But I said I love what I do, and we kept going. I gave up a lot along the way - I got to 11th grade in school, and that was it. I always wanted a prom, I missed that. That's one of my bucket list things I gotta do," she says wistfully.
But Evelyn wouldn't want it any other way. "I still love touring. In fact, I have two shows this weekend. It means so much to have so many generations of fans who want to come out and hear my songs. It's unbelievable when there are four-year-olds at a big outdoor concert and they come up and say they love your song … I even bring kids onstage to dance with me to 'I'm in Love' and they're having a great time. Fans – they tell me stories backstage, some people got divorced on my song, got married, had babies. Their stories are fabulous, and I want to give them the performance of a lifetime."
Fans aboard the Ultimate Disco Cruise will get to see that performance of a lifetime and more from Evelyn. "It means a lot to me, knowing that they wanted me to be on their cruise," she explains, "and it's as memorable for me as it is for the fans." Evelyn got a taste of the StarVista LIVE cruise experience when she sailed aboard the Soul Train Cruise earlier this year. "You know what I love the most? It's when they're looking for you," she reveals. "One time, I was sitting with my husband (who is also my musical director) eating lunch on the Lido deck. I had on this big hat, and a sweet lady came over and said to me, 'you know what, Evelyn, you can't hide under that hat.' It was hilarious I had to laugh. It was adorable and I took pictures with her entire family. Another time, I was sitting in a corner watching Kool and the Gang's concert and two ladies walked over and talked to me like they knew me forever. It touches my heart. I'm looking forward to more moments like that."
Evelyn is also looking forward to more lunches on the Lido deck and checking out concerts with her husband, Freddie Fox, who just released a new album, Limitless (which features Evelyn's vocals, of course!). "I'm blessed every day, my husband tells me that all the time! And I'm so grateful you all want me with you on the Ultimate Disco Cruise."