A Letter From The Executive Producer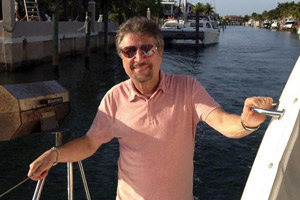 I thought our inaugural Ultimate Disco Cruise would be tough to beat, but we managed to make the 2020 sailing even bigger and better. I'm still catching up on sleep and resting my dancing feet after 5 incredible nights of dance fever with our amazing guests. The community onboard this cruise is unlike any other, and I am so thankful to you all for bringing the party and the shared love for disco music and the era. I am also so grateful for the artists that not only brought phenomenal live performances, but were happy to interact with and get to know their fans. From happy hour with The Miracles, to autograph signings with The Jacksons, Commodores, Sister Sledge and others, and all the informative Q&As, we got to know the disco superstars like never before. It truly felt like a family onboard.
There's something about this music that unites us all. Whether it's the rhythm or the message, the music brings us together on the dancefloor, allows us to leave our worries behind, and creates a sense of harmony between us. The community, the fashion, the parties – this cruise brought back so many of my favorite memories from the disco era and I hope it did for you too. I can't wait to do it all over again in 2021 with you plus KC and The Sunshine Band (special appearance 2/24), Kool & The Gang, Rose Royce, Exposé and so many others.
Speaking of…our 2021 sailing is booking up fast, so book today and share your experiences with friends and family. I hope you'll join us again on next year's Ultimate Disco Cruise as we continue to celebrate the greatest dance music EVER!
Alan Rubens, Executive Producer