A Letter from the Executive Producer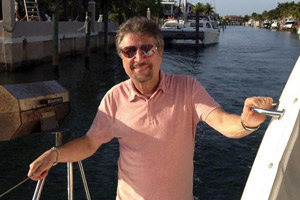 I don't know about you all, but when I hear a disco song that I remember so well and love, I just can't get it out of my head. Something about this genre of music catches your ear and stays there until you get those dancing vibes out of your system. And let's face it, nobody can be unhappy when they're dancing to disco while remembering the nights we spent at those fabulous clubs and the whole fantastic disco era. That's why when you're on the Ultimate Disco Cruise, you're surrounded by other happy people who immediately become your friends. I knew there would be a special community formed on this cruise, but I have to say, I didn't know how special it would be. It has created a family of like-minded individuals who may seem to have a variety of backgrounds but are connected by a fantastic musical and social phenomenon.
Many of you have reached out to us to share how special this cruise was to you. We thank you for your continued support, and hope you are sharing your experiences with friends and family! We have a Bring a Friend program that I'm sure many of you could benefit from, check it out here. We hope to grow our Ultimate Disco Cruise family even further and spread that Dance Fever at Sea. And if they can't begin to imagine the fun, just show them our new YouTube channel where they can relive the cruise with you and see what all the hype is about! Make sure to subscribe to the channel to see weekly videos and all access interviews with the stars.
This 2020 cruise is going to be bigger and better than the last, and we can't wait to see your disco moves all over the ship and in our Studio 55 till the wee hours of the morning – just like we did in the old days. Cabins are selling fast, so if you haven't yet booked make sure you do so soon! You don't want to miss this incredible vacation experience. We're sure you deserve it.
Stay Groovy,
Alan Rubens, Executive Producer