Carrying on the Legacy of Disco Pioneers, the Blue Notes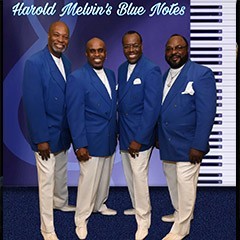 Arthur "Sugar Bear" Aikens (pictured far right) can't wait to perform on the Ultimate Disco Cruise
The songs of the Blue Notes have kept us moving and grooving ever since 1960, when they first hit the charts with "My Hero." But it was their signature smash, "If You Don't Know Me By Now," and Top 10 "The Love I Lost (Part 1)" that cemented their place in slow-dance history during the dawn of the disco era. Arthur "Sugar Bear" Aikens has been entrusted with carrying on the legacy of the Blue Notes, ensuring that the music of these disco pioneers lives on. He shared his thoughts about what it's like to be a part of the legendary group and what he's looking forward to on the cruise. And he surprised us with a bit of history: the Blue Notes were the first to record the disco anthem, "Don't Leave Me This Way," two years before Thelma Houston's rendition stormed the dance floors. We can't wait to hear their version on next year's Ultimate Disco Cruise!
Philadelphia soul and the Blue Notes go together like hair spray and feathered bangs, like spandex leggings and platform shoes, like sequins and…everything. It was back in 1972 when the iconic record label joined forces with a local group that had perfected a mix of soul, doo-wop and disco. "When Philadelphia International (records) and Gamble and Huff put those songs together it was like magic," says Arthur "Sugar Bear" Aikens. "That music - I love it. I wouldn't sing anything else."
As the hits rolled in and the band toured the world, the lineup evolved and Sugar Bear joined the group 35 years ago. It was a dream come true for the vocalist. "Every album that they recorded, I would buy. And I would play them until the record didn't have any more treads in them," he remembers, laughing. Little did he know that one day he'd be singing all those songs with them. In fact, he didn't even have to audition. "I was a contractor, standing on a two-story ladder and painting a window while singing a Temptations song," he explains. "And one of the Blue Notes was driving by and stopped and started shaking that ladder. He asked me, 'how would you like to become a Blue Note'. Then he gave me Larry Brown's address. I went to the house, he took me in the basement and put 'Miss You' on and had me sing it. He waited until the end of the song where Teddy (Pendergrass) held that note and I did that."
Arthur got the gig and all those hours and hours he spent listening to Blue Notes records paid off. "When I did my first show with the Blue Notes I didn't rehearse with them. Believe it or not, I sang the whole show without one rehearsal!" he marvels.
"Now, I've been with the Blue Notes for 35 years," he reflects. "I'm still doing it and still loving it. On Larry Brown's deathbed, he had me promise him that I would keep the legacy and the group going…I'm a man of my word and I won't break that for anybody." On the wings of that promise, Sugar Bear will bring the Blue Notes legacy to the Ultimate Disco Cruise when it sails in February, but also plans on soaking up the music and talents of the other artists while he's on the ship.
"I'll definitely be sitting there in the concerts," he says, excitedly. "This will be my first Disco Cruise. I've never been out there." "And we're real excited about performing. Everywhere we go, we leave that stage smoking! I think we might see some of the folks from our fan club, too. They come out to our shows and we know them. We love them just as much as they love us. Without them there would be no "us"."
As proud members of the Blue Notes fan club, we want to let you know that we'll definitely be on the cruise, Sugar Bear. And we can't wait to see you, too!