What You Don't Know about Exposé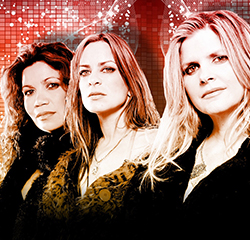 Here's what we do know (and love) about Exposé: There's a party wrapped up inside every one of their songs and we're all too happy to let it out. Once those first few notes start up, we can't stop ourselves from dancing, no matter what time it is or where we are. "Point of No Return" and "Come Go With Me," "Let Me Be The One" and "What You Don't Know" have the power to turn any floor into a dancefloor. But did you know that their ballads are every bit as fabulous? "Season's Change," "I'll Never Get Over You Getting Over Me" and "When I Looked At Him" all helped earn the trio the distinction of being the first group to land four Top 10 hits off of a debut album. When we found out Gioia, Ann and Jeanette would be joining us on the Ultimate Disco Cruise, we instantly made a new playlist of all of our favorite Exposé songs and haven't been able to get them out of our head ever since. We recently got the chance to speak with Ann and Jeanette (Gioia sends her love to you all and promises to catch up with us soon), who shared the story of their incredible journey and an even more remarkable friendship.
"I personally clicked with both Gioia and Ann right away," remembers Jeanette. "I met Gioia first and she actually invited me to live with her in an adorable townhome with her giant German Shepherd. I was just 20 years old and had moved from LA all the way across country to Miami. That was very scary - I was out there without a car, I did not know one person, and she immediately invited me into her family. Ann and I hit it off really well right away, too. We had so much in common, like our love for music and reading." "I was the last member to come in," adds Ann. "I wondered, 'Am I going to get along with these girls?' And we all got along famously."
What could be better than finding two new best friends to chase your dreams together with? How about landing three Number One dance hits and touring the world together? "I thought I was going to come home within two months of arriving in Miami," Jeanette says with a laugh. "But it was an absolute whirlwind. The record company had heard the music we recorded and was excited so we had to fly to New York right away to do a video and meet everyone at the record company."
"I think, at the time, we knew that what we were going through was special in that everything that we released turned to gold," says Ann. "And then we were catapulted into touring. We were so young at that time in our lives, we really didn't know where it was going to lead and where it was going to end. Instead of pulling us apart it galvanized our relationship. To be honest, we were all a little bit like deer in the headlights, wondering what we were getting ourselves into and what's it going to be like. But we really clung to one another for support."
That initial whirlwind didn't stop spinning for 10 years (with Gioia temporarily stepping out of the group to heal a tumor on her vocal chords). By 1996, Exposé decided it was time for a break. They worked on solo projects. They found time to connect and reconnect with loved ones. Ann earned a business degree. But a chance meeting with a fellow musician made Jeanette realize that their fans had been patiently awaiting their return. "So I called Ann and Gioia and the stars aligned and we were all ready to come back and do this again," Jeanette recalls. "All the while during our break, Jeanette and Gioia and had I stayed in touch," Ann replies. "And when Jeanette called me about getting back together as a group, I will never forget that moment. I was on the phone with her with an infant on my hip as she asked, 'Would you be interested in doing this again?' I said yes, let's do it, let's go. It was so important to me and it came at the right time, after I was able to have space to breathe during the break."
"And we've had many wonderful concerts…and dinners and laughs and good cries and heartfelt discussions ever since," Jeanette shares. "There's nobody besides those two women who know me the way they do, who have gone through the things I have. We have so much in common." "We all have this desperate love for one another and respect and admiration," agrees Ann. "I feel like the luckiest girl in the music industry."
"There's an interview we did during or after the first album with a quote from Gioia saying 'I can't imagine doing this 25 years from now' and we laugh whenever we think about that, because here we are, 33 years later and still doing it, completely enjoying being with the fans who have supported us along the way."
So many of those fans will be onboard the Ultimate Disco Cruise when it boogies through the Caribbean in 2022. We can't wait for it to sail, but until then, we're going to keep that playlist running and turn every floor into a dancefloor.