Catching Up with our Disco Favorites
If you're anything like us, you're running out of shows to watch on Netflix, books to read, or new recipes to try. Luckily, we were able to catch up with some of our favorite stars from the Ultimate Disco Cruise to see how they've been spending their time during this new era of social distancing.
An Interview with Saturday Night Fever Choreographer and Cruise Host Deney Terrio
We know you're all used to seeing Cruise Host Deney Terrio break it down on the pool deck or in Studio 55, but recently, he's been staying home, just like you! We got a chance to sit down with Deney to find out what he misses most about everyday life, some of his favorite career moments, and what his favorite parts about being on the Ultimate Disco Cruise are! Check it out on YouTube here, and don't forget to subscribe to the StarVista LIVE YouTube channel, as more exciting content will be posted soon! Next week we will be interviewing Rose Royce for another All Access Pass from Home, so don't miss it!
Big News from Boogie Wonder Band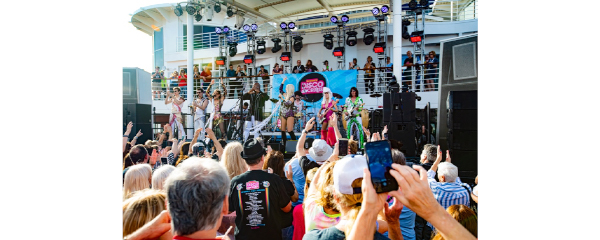 Cruise favorites Boogie Wonder Band have been busy, recording a new song and shooting a music video! Get ready to hang up a disco ball in your living room and dance to the beat of their new groovy single "Love Solution", available now. This is the perfect song to dance to in order to master those disco moves before you break them out on the Ultimate Disco Cruise in 2022!
Plus, you can now rep your favorite band with official Boogie Wonder Band boogie-licious merchandise! Check out some brand new t-shirts, magnets, phone cases, and even masks – all the gear you could imagine… and more, available here!
One World Our Song, With Evelyn "Champagne" King
"Shame" singer Evelyn "Champagne" King has been keeping busy spreadin' her love all throughout the music community by supporting Voices 4 One World, a project that helps the Musician's Foundation, the NAACP Legal Defense Fund, The Actors Fund, and the First Responders Children's Foundation. Through generous donations, this project supports musicians whose incomes have been impacted by COVID-19, as well as the other unsung heroes whose livelihoods have been threatened during these turbulent times. 100% of every donation will go directly to help those in need. For each charitable donation given, you will receive a free download of the song "One World". For more information or to donate, please visit oneworldoursong.com.