Gloria Gaynor Brings Disco's First Official Hit Song to the Ultimate Disco Cruise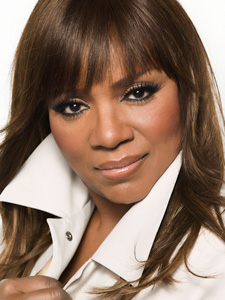 Disco swept the world off its feet in the '70s, but it was Gloria Gaynor who made it official when "Never Can Say Goodbye" became the very first #1 song on the newly minted Disco Action chart in 1974. Legend has it that it was also the first disco track to ever be played on the radio. She went on to win the first (and only) GRAMMY Award in the Best Disco Recording category for her anthem, "I Will Survive," in 1980. She carries on her trailblazing legacy next year by joining the very first Ultimate Disco Cruise. We couldn't be more honored and excited to have Gloria with us, and recently got a chance to ask her a few questions about her career, her life and what she's most looking forward to when the
ship sets sail.
It may surprise fans to learn just how big of a role Gloria had in leading the disco movement to new heights. We're not just talking about her soaring vocals, chart topping hits and GRAMMY win. It was her savvy insight, tenacity and vision that propelled her songs into places no other disco tune had been before.
"I really had an idea of what it could become before I ever heard it, when I first saw the lyrics," she tells us about her first encounter with "I Will Survive." "Being a lyricist myself, I recognized that anybody and everybody could relate to this song when they hear it."
"I had gone out to California to record another song that the record company president had chosen to be my single. So I took 'I Will Survive' and said to them, 'this song that was written for the B-side should be the A-side.' But they literally wouldn't even listen to it." Gloria kept insisting she knew what disco fans would want but her pleas fell on deaf ears and the song remained a B-side. So Gloria took matters into her own hands. "We had some samples before anybody else had it, so we took it to the DJ at Studio 54 he played it for his audience while we watched, and they loved it. We gave him a stack of them, he took them to his DJ friends who played them, people began calling radio stations requesting it and then radio stations had to ask the record company for it." The song went on to reach the #1 spot on the Billboard Hot 100 chart, won a GRAMMY Award, topped VH-1's list of 100 greatest dance songs, has been preserved in the National Recording Registry by the Library of Congress, remains an anthem of empowerment and is pop culture fixture around the world to this day. "I knew that, in the end, everybody would be happy," she says with a smile in her voice.
But what Gloria loves most about the track is the role it has come to play in peoples' lives. Embraced by generations, it is the rare song that so many people can relate to it and draw strength from. "I like songs that are uplifting and touch peoples' hearts," Gloria says with reverence. "It makes me feel wonderful, it's such a privilege and a blessing to be able to do something like that." And when she hears fans sing along during concerts? "That is positively exhilarating. I save it for last and no matter how I feel - sick, tired, frustrated, angry - whatever emotions I may have, by the time I finish the song they're all gone. The audience really uplifts me – everything I give to them, they give back to me triplefold."
What many people don't know is that "I Will Survive" was an inspiration for Gloria, too. "I had an accident on stage, had fallen and woke up the next morning paralyzed. I was hospitalized for months. I had no job, I had no money, I couldn't pay the rent or anything and there I was in the hospital. I prayed to God and I always thought 'I Will Survive' was the answer to those prayers." "The song is absolutely about me," she continues, "and that's why I was able sing with such fervor. I believe people hear the determination in my voice and what I was feeling when I sing that song."
Gloria will close out her shows on the Ultimate Disco Cruise with her signature song when it sails next February. "I love cruises," she says with excitement. "It's a real vacation from all the craziness. I'm going to be relaxed and enjoy it." She's also looking forward to connecting with fans and catching some of the concerts onboard. And she'll have plenty to talk about, both old and new, particularly about an all-new album that will be released in January.
"It's a gospel album and is called 'Testimony' because it is my test of the goodness, grace and unconditional love of God," shares Gloria. "I'm really excited for it. My producers are wonderful and Christopher Stevens and I wrote all of the songs. We have Yolanda Adams and Bart Millard of MercyMe and Jason Crabb, who has been singing gospel music for many,
many years."
"I probably will be doing a song or two from the album on the cruise," she says, giving us an idea of what she's got planned for the Ultimate Disco Cruise. "It's really uplifting and encouraging," much like the spirit behind "I Will Survive" and sure to inspire, empower and delight her fans just
as much.
To learn more about Gloria Gaynor, visit her official website at www.GloriaGaynor.com or her charity's website, www.IWillSurvive.org or keep an eye out for the upcoming documentary about her life, scheduled for release in early 2019.