Catching Up with the Disco Stars
Since we've been at home for a while now, we've finally had enough time to perfect our Hustle and other Disco dance moves (watch out for us at the dance contest at Studio 55 in 2022). However, during our dance breaks, we were able to catch up with some legends from the Disco era, via Zoom, who will be gettin' down with us on the 2022 Ultimate Disco Cruise! We are always posting new and exciting content, so make sure you are subscribed to the StarVista LIVE YouTube channel and like us on Facebook so you don't miss a thing!
Kenny Copeland of Rose Royce
We've been "Wishing on a Star" that we'd get a chance to catch up with Ultimate Disco Cruise favorite, Kenny Copeland of Rose Royce! In this All Access Pass from Home, Cruise Host Jason Venner sat down with Kenny to discuss how the iconic band got their start, what the idea was behind their name, and what Kenny's looking forward to most about going on both the Ultimate Disco Cruise AND the Soul Train Cruise in 2022! Make sure you follow Rose Royce on Instagram for information on upcoming music releases, plus listen to the full interview on the StarVista LIVE YouTube channel here.
The Hues Corporation
We're dreaming of the days when we can "Rock the Boat" on the Ultimate Disco Cruise again, and we especially can't wait to have The Hues Corporation perform for us for the first time in 2022! Jason recently caught up with the group to find out what they've been doing to stay busy during this time, and turns out, they've been pretty busy! The Hues Corporation is currently prepping for their worldwide live stream show called "We Love Music", which was rescheduled from January 2021 and is coming out this summer! Be sure to catch the livestream concert on July 4, 2021. Plus, the group has some new and exciting music in the works! Look out for a new "Rock The Boat" collaboration with Master Gee coming out soon. Visit www.nattyrecords.com for more information on the show and the single.
Boogie Wonder Band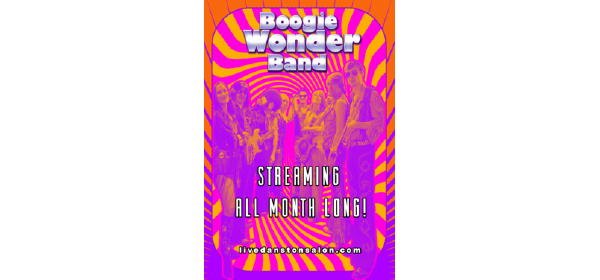 Boogie Wonder Band recently celebrated their 25th anniversary with an incredibly groovy livestream show for their fans! If you missed it, don't worry! You can watch it as many times as your disco lovin' heart desires before it expires on January 31st. Purchase your "ticket" at the link below and relive all those amazing pool deck shows from one of the Ultimate Disco Cruise's favorite groups. Grab your sequins, tune in with friends and boogie down for a full disco show!
And the content doesn't stop there! We have so much more to share with you over the next couple of months. Plus, relive those incredible moments onboard with videos from our 2020 sailing.
We can't wait to see you again to Celebrate the Greatest Dance Music Ever!