A Letter from the Executive Producer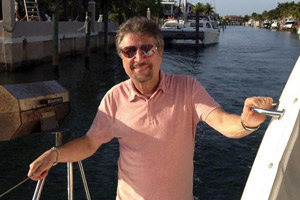 Well disco family, I am glad to know that 2020 is finally behind us and although we won't be sailing together this year, all that has happened has brought me a new perspective on why our StarVista LIVE cruises are so special. Yes, the chance to get away, the sun-kissed days at the beach, delicious food, luxurious accommodations and of course the incredible live performances and entertainment make these cruises a vacation not to be missed. But what really matters in all of this is the community our Ultimate Disco Cruise has created.
I miss more than ever seeing friends, new and old, from all different backgrounds dancing on the pool deck together, partying until all hours of the morning at Studio 55, swapping stories about our pasts and the impact disco has had on all of us. I miss the overwhelming energy you all bring to this cruise, especially how you always embrace one another with positivity and kindness. Disco is meant to be enjoyed with others, and though this year has certainly felt isolating for many, I am confident that by February of 2022 we will celebrate good times all together again. In these times of uncertainty one thing is for certain - our Ultimate Disco Cruise family always brings the love, positivity, great dance moves and happy vibes to our cruises.
While my New Year's resolutions include the usual in reference to healthier eating, setting aside time for outdoor activities, exercising more, etc. I do have one in particular that I most look forward to enacting – getting back into the planning and programming for the very best Ultimate Disco Cruise to date. If you haven't yet, book your cabin now and stretch out your payments with our convenient monthly payment plan! 2022 will be the grooviest party yet.
Until we sail together again, stay safe and I look forward to seeing you on our 2022 Ultimate Disco Cruise!
Alan Rubens, Executive Producer