A Letter from the Executive Producer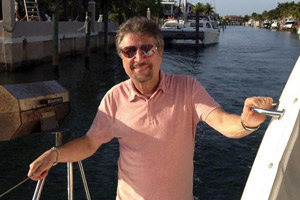 Don't you remember what it was like getting ready to hit the club scene on a weekend night? Who were you going to meet? What hip new moves were you going to learn? What beat was going to get you out on the floor and which artist were you soon to discover? Disco became more than a genre of music, it became a social and cultural phenomenon. On the Ultimate Disco Cruise, we strive to bring that incredible phenomenon back for 5 nights of dance fever at sea.
For those of you that didn't sail with us in 2019, let me paint a picture of the onboard experience for you…once you join the party onboard, you'll never want to miss out again.
Begin your day with a coffee and delicious breakfast on the lido before heading to the pool, where you'll be surrounded by disco music while you enjoy some fun in the sun at daily pool parties. Artists like Boogie Wonder Band will bust out "funk-a-licious grooves and disco-strutting jams " while you dance like no one is watching.
Boogie inside for a quick bite, a massage at the spa, or a dip in the solarium pool, then head to trivia, a gameshow or a Q&A session with your favorite disco stars! Who knows, maybe you'll get to chat with them afterwards, grab an autograph and gush about how their music changed your life in the '70s.
Get back outside and get ready to groove - it's time for a dance lesson with famed Saturday Night Fever choreographer, Deney Terrio.
You worked hard at your lesson, maybe even broke a sweat, and learned the classic disco moves but now it's time to freshen up and get decked out in your disco garb before dinner and the Mainstage show begins. Every night you'll see LIVE performances from artists like KC and The Sunshine Band, The Jacksons, and the Commodores to name a few. They'll transport you back to your favorite era in this intimate and incredible venue. Look around and admire the retro outfits and fellow fans of this incredible music.
Hustle back to the pool deck, this time under the stars, for more performances from The Miracles, George McCrae or Maxine Nightingale. Dance with friends, old and new, as we sail toward our Caribbean port.
Before midnight, strut over to our two-story dance club, "Studio 55", and bust out those moves on the LED dance floor as the DJ spins the hits. Just like the old days we start at 11 pm and the floor keeps hopping until 3 or 4 in the morning. Don't worry, you can relax the next day on a sun-chair on the beach or take in the sites around the port.
Head back to your cabin, rest up and get ready to do it all again
There's really nothing else like this cruise, so book the vacation of a lifetime NOW before we sell out! Tell your friends, and get credit for doing so, before they miss out too.
We can't wait to see you onboard in 4 short months!
Alan Rubens, Executive Producer