A Letter from the Executive Producer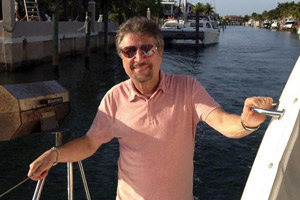 We returned from our inaugural sailing of the Ultimate Disco Cruise just over a month ago and I can still feel the afterglow effect from this incredible cruise. It truly was the biggest dance party at sea. We were up until dawn at Studio 55, saw performances from some of the greatest artists of the disco era, bumped into them at parties and events, and danced from one end of the ship to the other as we met friends, new and old, for a 5 day celebration of the era we remember so fondly. In my time here at StarVista LIVE, I've never experienced such appreciation and enthusiasm from our guests as I did on this sailing. I want to thank each and every one of you who sailed with us on our first Ultimate Disco Cruise for being part of something that was, and will continue to be, so very special.
I had a dream of how I hoped this cruise would come together, and I am very proud to say that the cruise far exceeded my expectations. Your sheer joy in being surrounded by this incredible music that unites us all and the energy you brought night after night surpassed my dreams. The music, the community, the fashion, the parties – this cruise brought back so many of my favorite memories from the disco era and I hope it did for you too. I can't wait to do it all again next year and see you all back out on the dance floor!
Cabins for 2020 are booking up fast and word is getting out, so please book today and join me again on next year's Ultimate Disco Cruise as we celebrate the greatest dance music EVER!
Alan Rubens, Executive Producer