The Dance Fever Dispatch Talks to France Joli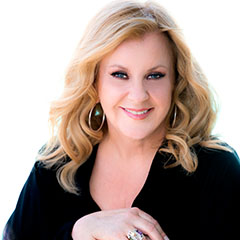 France Joli can't decide whether she's more excited about performing on the Ultimate Disco Cruise, meeting with fans or seeing her fellow superstars she calls her "disco family." She recently told us how much she's looking forward to her vacation filled with all three and the journey that brought her there.
"When I first heard about the Ultimate Disco Cruise, I immediately said, 'I have to be there,'" France Joli says with laughter in her voice. "I knew about the cruise before I was invited to join, and I told my manager, 'I so want to be there.' It's such a great idea and I'm so glad that I'm part of it."
"I'll be taking selfies for sure," she continues excitedly. "I always make myself available to the fans. I love to tell them stories and hear their own stories about when they were listening to my music. I want them to know that without them I'd be absolutely nowhere. They made my life what it is, as far as being a performer and an artist, and that has been so amazing. They are my motivation. I'm forever grateful for my fans and I love them to death."
The Ultimate Disco Cruise will be filled with the kind of love – and good times – she describes, and so much more. Joli is not only excited about spending the week with her fans, but with her boogie best friends, too. Over the years, she has formed tight bonds with many of the performers who will be joining her on the ship. "We've become a family - we're like a disco family. There's a closeness and it's magical. Fans will see the friendship and the togetherness of the artists. I think they're going to feel that."
Known around the globe for her iconic disco smash hit, "Come To Me," Joli has been an icon since the very young age of 16 when the song hit the top of the disco chart. "I recorded it when I was 15," she recalls, "and it came out when I was 16 and I was really excited." The song was written just for her, a day after producer Tony Green saw her sing for the very first time. "I was totally floored - he called and said 'you have to come over here and listen to it' and he just played his guitar and sang this song for me and I remember flipping out because it was so melodic and the lyrics were so comforting and nice and I just really fell in love with this song."
From the moment she heard the song, Joli knew it would change her life. "I dared to dream all my life. I still do." But as she recorded "Come To Me," little did she know that another pivotal moment lay just around the corner. Shortly after the song was released, Joli was asked to step in at the last minute for Donna Summer at a concert. Not many people can truly pinpoint a moment in time when everything changes, but France Joli still remembers it vividly.
"It was amazing," she says with awe. "When I got to Fire Island, it was almost like a red carpet treatment; they rented this big house for me to stay in and I felt like, wow, people know me here. When I got onto the stage, before even the music started, the crowd was applauding and screaming and I was taken aback. So I just smiled, and when I started singing, everyone was singing my song. It was very special. I'll never forget this moment. It was exactly like a fairytale."
Today, she carries that memory with her every time she stands on stage, looking out into a sea of adoring fans of all ages, from all around the globe. "I'm always astounded by the people at my shows who are 21 or 22, who come up to me and say, 'I'm a big fan' yet they weren't even born when my song came out. To see kids with this appreciation for disco music at that age just blows me away. But I strongly believe that good music stands the test of time."
We couldn't agree more!