Remember These? What Was Your Style During the Disco Era?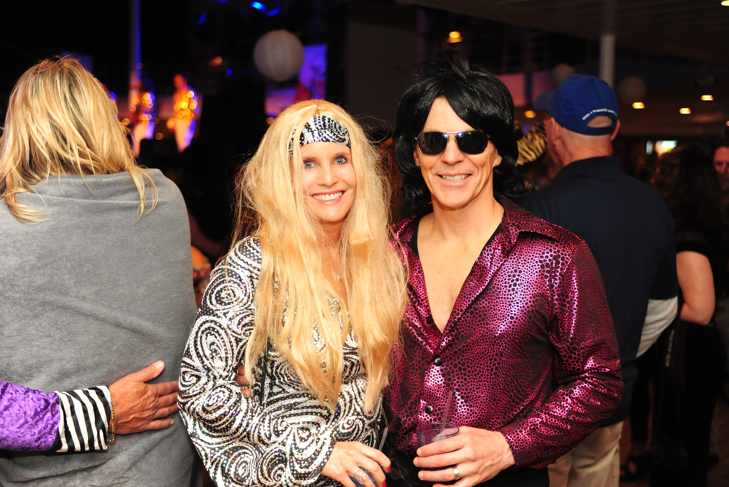 The disco era transformed pop culture almost overnight. Gone were the beads and daisies, denim bell-bottoms and fringed vests of the late '60s and early '70s. In their place came over-the-top excitement, flash and exuberance in all colors, in fashion, sights and sounds.
Disco reveled in excess and euphoria - everything was bigger, brighter, funkier and a whole lot of fun. We want to know what were your Good Times like?
Did you sport JJ's dyn-o-mite bell bottoms or skin-tight metallic leggings (that's right, we're talking about you, Charlie's Angels)?
David Bowie's jumpsuit or a Danskin leotard?
Tube tops or halters?
Polyester or….polyester?
Was a huge comb or an afro pick sliding out of your back pocket?
Did you wear a big, gold medallion or a chunky ID bracelet?
And did you top it all off with Diana Ross' afro or Farrah's feathered do?
Blue, sparkling eyeshadow or spider-leg eyelashes?
For that final touch before boogieing out the door, did you splash on some Charlie or Enjoli? Jovan Musk for Men or Brut by Faberge?
Were you dressed to impress at the roller disco or under a disco ball?
Once you arrived in style, did you order up a Manhattan or Singapore Sling?
Was your best dance-floor move the Electric Slide or The Hustle?
Did you stand in line for "Saturday Night Fever" or "Thank God It's Friday"?
Or hang out at home to wait for "Three's Company" or "One Day At A Time"?
"The Six Million Dollar Man" or "The Bionic Woman"?
Was your jam "Boogie Oogie Oogie" or "Boogie Wonderland" or "Boogie Nights" or "Blame It On The Boogie" or "Jungle Boogie?"
And when you needed a Disco Nap (that all-important power nap between happy hour and late-night clubbing) did you slide between your satin sheets or roll into a waterbed?
Join us on Facebook to share your favorite Disco era memories. We look forward to hearing from you!