Iconic Dance Moves and Disco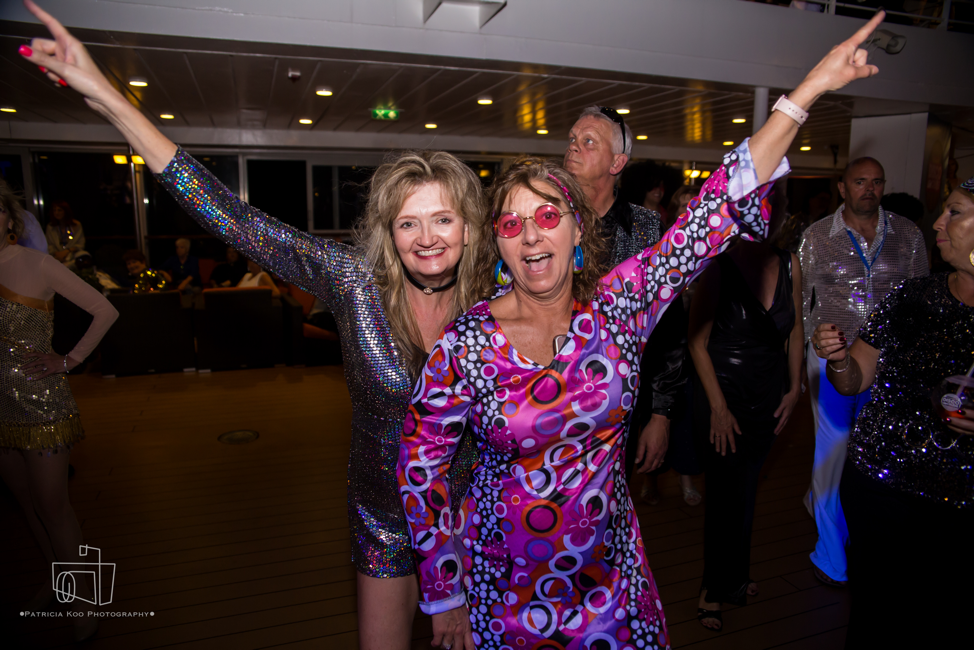 It doesn't take much to get us on the dancefloor. As soon as the DJ starts to spin a song with a great disco beat, we're out there channeling John Travolta and Deney Terrio. But there are some extra special songs that take our boogie to the next level, the ones that define the iconic dance moves we've loved since the very beginning.
Legend has it that the first disco dance move ever created was The Hustle, and when Van McCoy immortalized it with his hit song in 1975, it catapulted out of the clubs and introduced disco to the world (with a little help from a movie called "Saturday Night Fever").
Johnny Spruce is credited with creating The Bump, that simple-yet-groovy dance that everyone could do, but it's the Commodores (who will be with us on the 2020 Ultimate Disco Cruise) who have kept crowds moving to it ever since with their song of the same name. The dance craze even spawned a second track in its honor, "Lady Bump" by Penny McLean.
The one set of moves from the disco era that everyone (and we mean everyone) has done at least once in their lifetime is the irresistible YMCA, invented by "American Bandstand" dancers when the Village People performed the song on the show in 1979.
Rufus Thomas left nothing to chance when he taught fans how to "Do The Funky Chicken" step by step in his lyrics, and we've been thanking him for it ever since.
We wonder if Marcia Griffiths had any inkling that her "Electric Boogie (The Electric Slide)" would turn into such a dance phenomenon when a choreographer created new moves just to fit her rhythm.
The Robot was a move popularized by street dancers in New York City, but it was our Ultimate Disco Cruise artists, The Jacksons, who took it worldwide it during a performance in 1974 and it has remained a part of pop culture ever since.
And although folks can't agree on a name for The Travolta / The Point Move / The Disco Finger, they all know that it's best done with "You Should Be Dancing" by the Bee Gees playing with the bass turned all the way up.
Just thinking about these songs and dance moves have got us counting down the days until February. We can't wait to see you on the dancefloor!