A Letter from the Executive Producer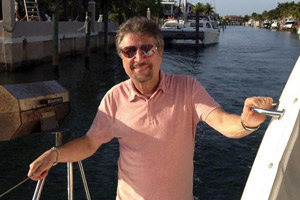 Now that this year's cruise season is officially over, we are in high gear planning the 2020 season! We set some pretty high standards for ourselves as this season was truly one of the best yet. Of course I may be biased, but the Ultimate Disco Cruise brought the biggest party, dancing and costumes to our list of cruises to date.
This summer we're working hard to make sure the 2020 cruise is even bigger and better than the last. We recently added some more star-studded names to the artist roster including Shalamar Reloaded featuring Jody Watley, The Trammps featuring Earl Young, France Joli and The Ultimate Donna Summer Tribute performed by Rainere Martin. We've got a few more additions up our sleeves but of course we'd hate to ruin the surprise just yet…
As the days heat up and get a bit longer, I'm sure you are daydreaming about your days and nights on the lido deck, relaxing under the sun and Caribbean stars and listening to your favorite artists of the disco era. I hope you aren't waiting to book this cruise as cabins are selling quickly and the boat is filling up! I can't wait to pack up my disco duds and get back on the ship with you party people. There's really no other cruise like this one.
Have a fantastic, relaxing summer and use that vacation time to plan your next best trip on the Ultimate Disco Cruise.
Alan Rubens, Executive Producer