It's Martha Wash, Hallelujah!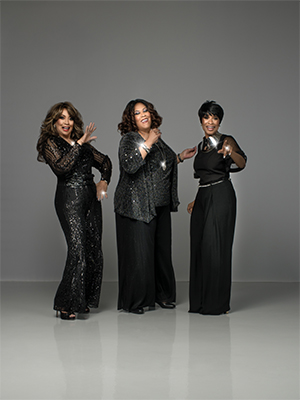 Martha Wash (Center)
We've never wished for rain on a vacation before, but when you're on the Ultimate Disco Cruise and you you'll want it to start pouring down…just as long as Martha Wash is sharing your umbrella. We recently caught up with the legendary vocalist, who thrilled us with her stories of the early days of disco and her incredible string of hits in the decades that followed.
We all know her voice the instant we hear it. That soaring, powerful, uplifting voice that has driven countless hit songs and filled dancefloors throughout the world. But what makes it so special is the joy; the pure, unabashed fun that she sings with and how it takes us all along for the ride. It's that voice and spirit that Sylvester fell in love with when Martha Wash first auditioned to be his backup singer in 1976.
"I was a kid," she remembers happily. "I was going to clubs in San Francisco. I had moved out of my parent's home, was living on my own, calling myself grown and independent. I remember everybody was having a good time dancing to Van McCoy and 'The Hustle.'"
"I hadn't even thought about being a part of the music up until that time at all. I was just enjoying going to the clubs and being around friends. But then I met Sylvester. I auditioned for him and started singing background, and I said 'okay, this is it.'" That gig turned into Two Tons of Fun, her duo with Izora Armstead, and they sang with Sylvester on his biggest hits, "Dance (Disco Heat)" and "You Make Me Feel (Mighty Real)." By 1982, Martha and Izora changed their name to The Weather Girls and released "It's Raining Men." The song went to #1 on the Dance chart, brought the Girls a GRAMMY nomination and became an anthem for generations to come.
What does that feel like, to be part of such a universally loved song that people from all walks of life and age group dance and sing along to every time it plays? "I'm happy about that. I had not a clue when we first recorded it. When Paul Jabara asked us to record the song, I told him, 'I don't think anybody is going to buy this song.' He answered, 'I need you to record this song, it's going to be a hit.' He was very adamant, and he was right! He would go around some of the clubs in NY and LA and ask the DJs to play the songs on an acetate and that's how he got the song in the clubs and it went up from there."
The magical disco formula that mixed music and dancing together on songs like "It's Raining Men" was like nothing ever before and has never been replicated since. "I think during that time, even though there were problems in the world, you could find places to go to enjoy yourself and essentially dance away your problems for a while. And people just kind of came together - it didn't matter so much if you were black or white. Everyone wanted to just come have fun and dance and not cause any problems and twirl the night away."
Martha continued to tap into the power of dance music and recorded a slew of iconic hits that have brought her back to the charts (and the clubs) time and time again. Her uncredited work with Black Box ("Everybody, Everybody," "Strike it Up") and C+C Music Factory ("Gonna Make You Sweat") made it clear that she was the queen of the dancefloor regardless of whether her name was on the record sleeve or not. And her solo hits "Carry On," Give It To You," "Keep Your Body Working," "I'm Not Coming Down," "Catch the Light," "Come," "Keep On Jumpin'" with Todd Terry and Jocelyn Brown") have solidified her place in musical history. What is the secret to her enduring success? "I just kept moving and tried to record songs that people like," she answers simply.
As she said that, we couldn't help but ask…where is Martha moving to next? Anywhere the First Ladies of Disco are going, she told us. A supergroup of the greatest vocalists to emerge from the disco era, the First Ladies include a revolving lineup that will feature Martha, Linda Clifford and Norma Jean Wright on the Ultimate Disco Cruise in February. "We just celebrated our second Top 10 Billboard dance song, 'Don't Stop Me Now,' and it came out on my own record label, Purple Rose Records. Right now, we're looking for more producers and songwriters to keep this train moving."
At the same time, Martha is working on a solo album. "I'm finishing up 'Love and Conflict.' I call it a gumbo of music because it's a little rock, a little pop, it's a little '60s kind of psychedelic. I never wanted to be pigeonholed into one genre of music… I just like different kinds of music because that's what I grew up on."
Will she perform some of these song on the cruise? "Oh yes, yes, I'm looking forward to it. And I hope I run into some fans. That would be nice. Everybody is going to have a fabulous time onboard. There are great acts on the cruise and it's just going to be non-stop partying," she predicts.
She might even try to squeeze in an interview or two for her YouTube show, 10 Minutes with Martha Wash. "It's just fun. I interview all kinds of people, kind of off-the-cuff, for about 10 minutes. I also am involved with FLOD Spotlight magazine, which is a digital magazine that's kind of an extension of 10 Minutes with Martha."
We're so excited about Martha joining us on the Ultimate Disco Cruise and can't wait to see her in action with the First Ladies of Disco!