Catch The Bindy Bazaar At Bethel Woods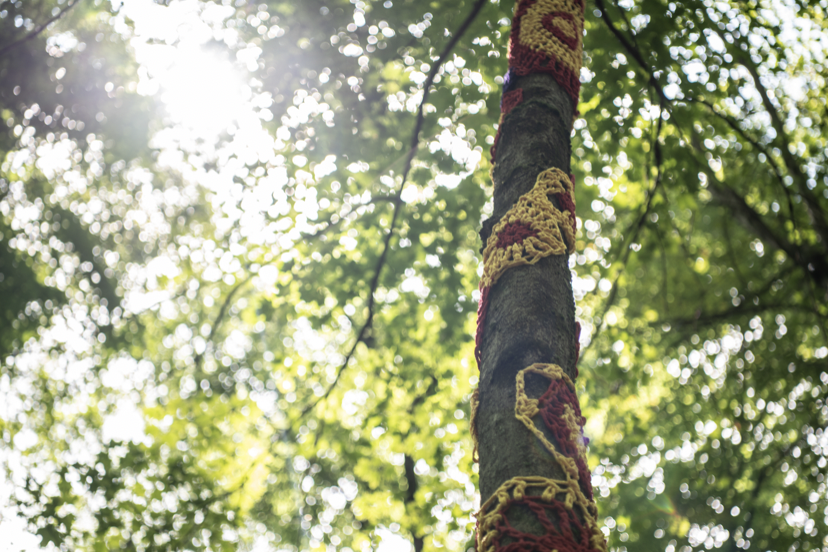 In 1969, the Bindy Bazaar was a marketplace and trail system that acted as the heart of the Woodstock festival. It consisted of approximately 20 booths where vendors sold crafts and clothing and connected two major areas of festival grounds. As stewards of the historic site, Bethel Woods worked to develop the trails within the woods for public exploration. In 2019, The Bindy Bazaar officially opened; guests can now see evidence that details the ways in which the woods were used during the festival. The restoration of the Bindy Bazaar Trails celebrates our historic location and further illustrates the lasting impact the 1960s has on the modern era.
To bring to life the art, craft, and sense of joy embodied by the Bindy Bazaar and the Festival itself, Bethel Woods presents a large-scale public art installation located in the historical footprint of the Bindy Bazaar Trails. Artist Carol Hummel's work highlights the use of textile and color celebrated in the era through an expression and technique representative of today.
The Museum opens on April 4th 2020!
Full-Year Museum Schedule:
April 4-26: Thursday-Sunday; 10 AM - 5 PM
April 27-November 1: 7 Days a Week; 10 AM - 5 PM
May 29-31: Museum Closed to General Public for Mountain Jam
September 7: Labor Day; 10 AM - 5 PM
October 12: Columbus Day; 10 AM - 5 PM
November 2-December 23: Thursday-Sunday; 10 AM - 5 PM
November 26: Closed for Thanksgiving
December 24-25: Closed for Christmas Eve and Christmas Day
December 26-31: Saturday-Thursday; 10 AM - 5 PM
Learn more when you visit BethelWoodsCenter.org/Museum