A Letter from the Executive Producer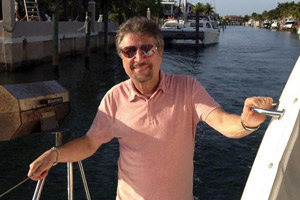 We're officially in the heat of the summer and as live music and vacations make a big comeback, so are we. Our StarVista LIVE team is working hard to ensure the 2022 Ultimate Disco Cruise is even bigger and better than the last – and our 2020 sailing will be quite the act to follow! In the past few months, we've added some more incredible acts to the artist roster including the iconic group THE JACKSONS. Their high-energy performances and Q&A sessions on the 2020 sailing were such crowd pleasers that we knew we had to bring Tito, Jackie and Marlon back for another epic time in 2022. We're also excited to welcome recently added Bee Gees Gold, The Ultimate Donna Summer Tribute performed by Rainere Martin, DJ Robbie Leslie and Keith & Leslie Ferguson onboard as they bring those disco hits we know and love to life.
Start dusting off your platform shoes and warming up those dancin' feet because the Ultimate Disco Cruise is BACK and ready for you. The demand for this trip is higher than we've ever seen as we're already 85% sold and down to our last three cabin categories remaining. I encourage you to book soon as we are sure to sell out. The sooner you do, the more you can take advantage of our convenient and affordable monthly payment plan at no additional charge. If your friends or family need a nudge, share our Top 5 Reasons to Get Onboard with them – I'm certain they'll be convinced. This fall, we'll share more info regarding merchandise, theme nights, onboard events and more so stay-tuned for those details to come.
I hope you have a fantastic rest of your summer and I look forward to celebrating good times with you again in 2022!
Alan Rubens
Executive Producer