Double Exposure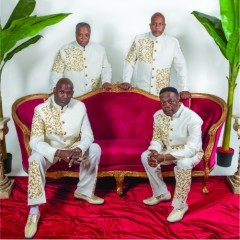 IS BACK PERFORMING AND BETTER THAN EVER!
Double Exposure is best known for their 1970's hits on the Sal-Soul Record Label "Ten Percent", "My Love Is Free", "Everyman", and "Perfect Lover". But ask any true Double Exposure fan and they will tell you that these guys have a long rich history in the music business spanning over five decades. Leonard "Butch" Davis, Joe Harris, Charles Whittington, and the late Jimmy Williams were the members during that span. They are one of the very few groups in history to perform that long with all its original members before any changes were made. That accomplishment was recognized by "The National Rhythm and Blues Music Society" with a "Lifetime Achievement Award". They were also recently inducted into "The Legends of Vinyl Hall of Fame" for their love, passion, and contributions to the music industry and also recently received a "Black History Month Music Award" for their artistic contributions.
Double Exposure has received numerous awards along with Gold Records for their hits "Ten Percent" and "My Love Is Free" both in the United States and abroad.
In October of 2016, Jimmy Williams passed away after a long bout with cancer. His death along with the illness of Charles Whittington generated one big question. Was Double Exposure Done? The answer was NO! Vowing to keep the group alive, Butch and Joe launched a search for two replacements. After a few months of auditioning singers, they finally found the guys they were looking for. Lorenzo Bell and Kenny Pitt are a perfect fit.
Double Exposure is back performing again. They're having a lot of fun and it shows on stage. There's a new show and a new energy which has once again caused them to be one of the most sought after acts by promoters.
BMG Music recently re-released there SAL-SOUL RECORDS "Ten Percent" LP which archived Gold and contains there two gold singles "Ten Percent" & "My Love Is Free. That Explains the new energy.