Boogie Wonder Band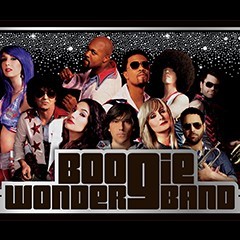 A Montreal 10-piece that's been busting out the brassy funk-a-licious grooves and disco-strutting jams since forming in 1996, the '70s-vibing Boogie Wonder Band is by far best known for entertaining with full- throttle high-octane live shows, each member donning eye-popping Las Vegas-inspired costumes and flashy personas..
They don't just hail from another land; they come from another decade..
where Disco ruled the dance floors!
The Boogie Wonder Band is a genuine, polished live band -no tracks are played-and they keep the party alive with solid vocal prowess, expertly executed choreography, and all the theatrics expected for a stage show from this caliber of performers.
Having played well over 3000 shows on their globe-hopping trek, the Boogie Wonder Band has become the most celebrated Disco band of our generation
and along the way have proven that Disco still rules the dancefloor!
"Thanks so much to the band for doing my song justice and great. You all keep Play that Funky Music where it is year after year, and only continuing to get bigger and timeless as the days roll on." Rob Parissi - Wild Cherry
Keeping disco and funk alive!